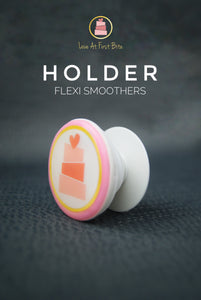 ¿Se te dificulta el agarre y manejar tus flexi smoothers?
Luego de utilizar este Holder con mis Flexi Smoothers y obtener mejores resultados, he traído esta opción para ti.
Solamente pegas el Holder al Smoother que no tenga el agarre de foam y enseguida te brindará un mejor agarre.
Package incluye:
Satisfaction Guaranteed:
Nuestra prioridad #1 en Love At First Bite es tu satisfacción, lo que significa que siempre obtendrás una calidad 100% de nuestros productos y servicios. Si tienes un problema, lo resolveremos. Contáctanos, estamos para ti. Felicidad Garantizada.
 Our #1 priority here at Love At First Bite is your happiness. Which means we stand out our product 100%, no matter what. If you have a problem we will solve it. Just reach out to us, we're here for you. Happiness Guaranteed.